National Indigenous Peoples Day Virtual Celebration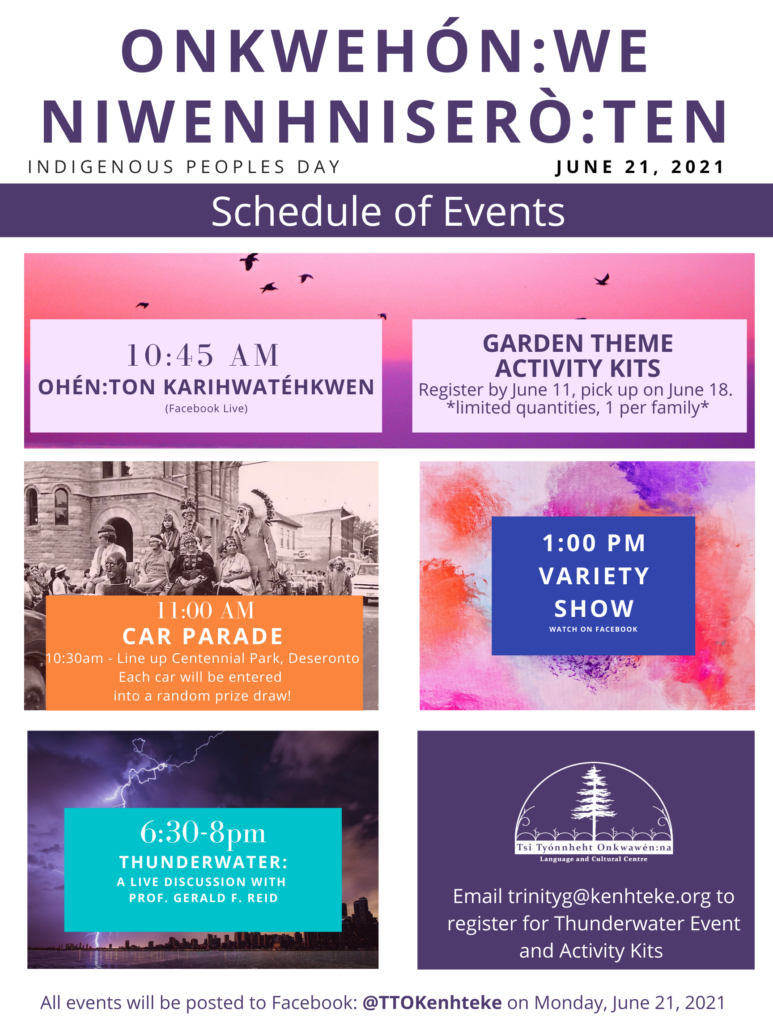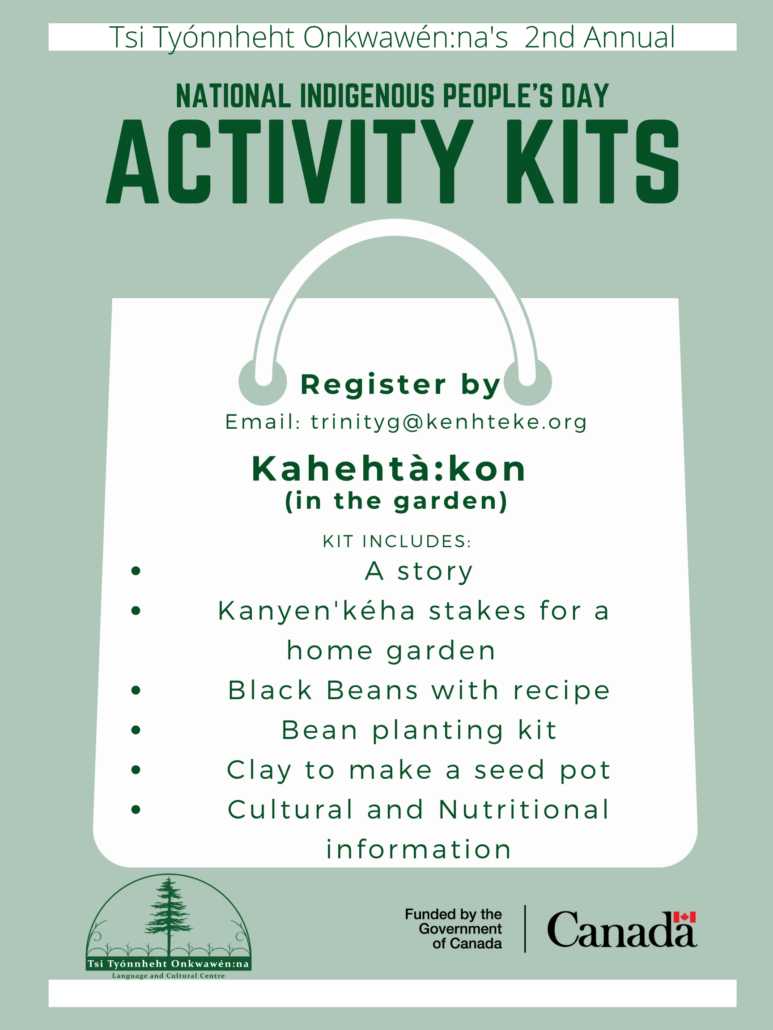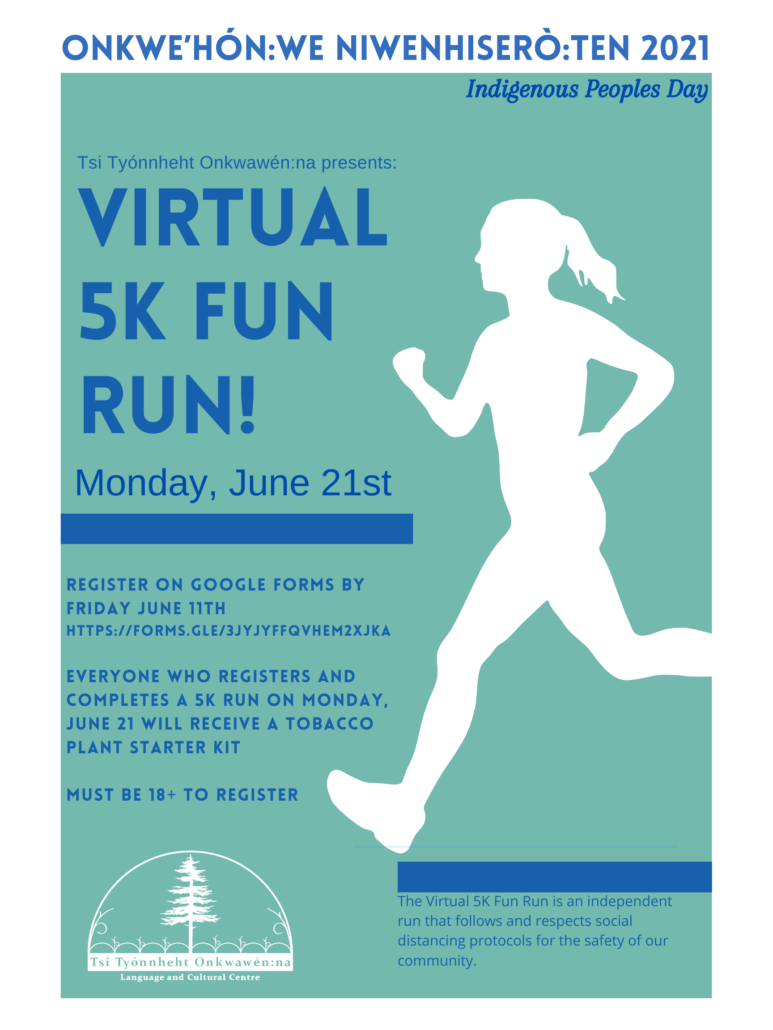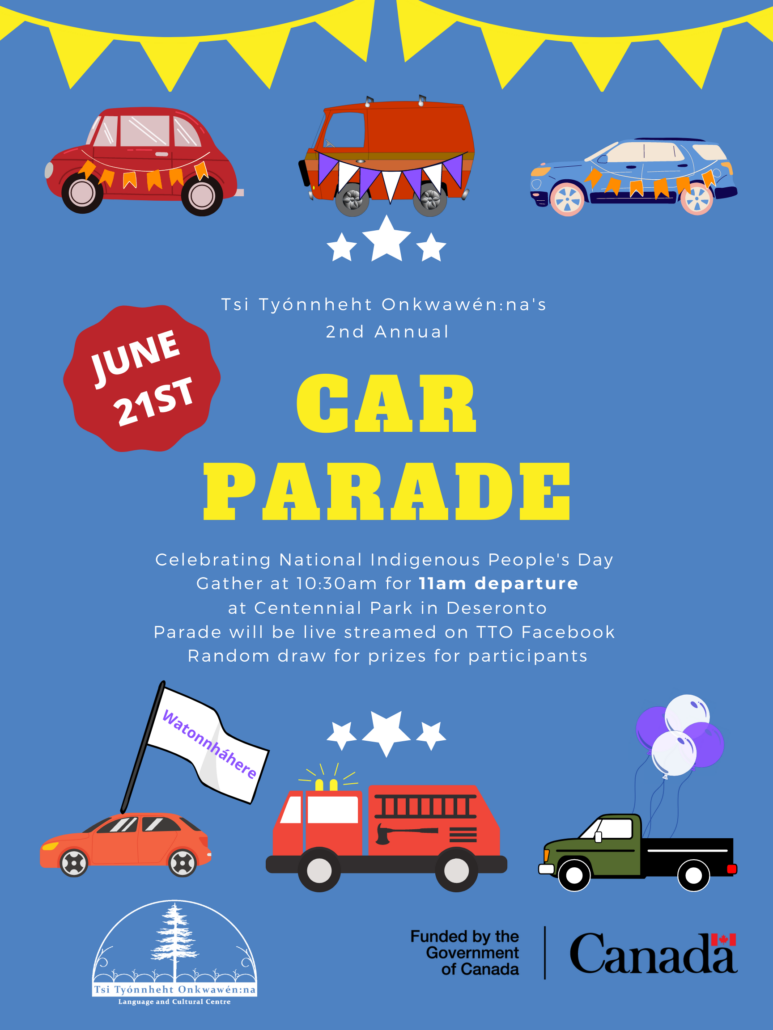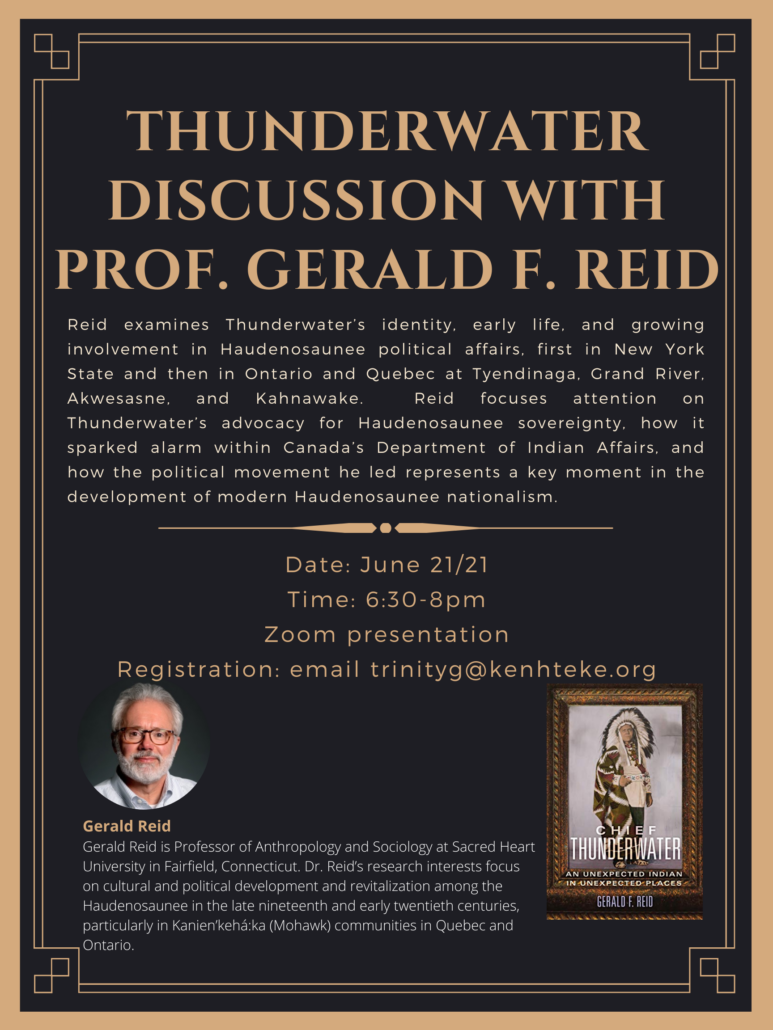 Join us for our annual NIPD celebration on Monday, June 21. Due to the ongoing pandemic restrictions all events are virtual or socially distanced.
Events on June 21
12:00AM-11:59PM – Virtual 5K Fun Run
10:45 – Ohén:ton Karihwatékhwen
11:00 – Car Parade (Watch on Facebook Live)
1:00 – Variety Show (Watch on Youtube)
6:30 – Thunderwater Live Discussion (Via Zoom; registration required)
For more information about any of the events, or to register, contact trinityg@kenhteke.org or call 613-970-3045.
Mohawks of the Bay of Quinte Annual Landing Celebration
Tsi Tyónnheht Onkwawén:na and the Mohawks of the Bay of Quinte will be commemorating the Annual Mohawk Landing Celebration virtually on Saturday, May 22.
8:00 am – Speech by Chief R. Donald Maracle
10:00 am – Video 1
11:00 am – Video 2
RFP: Kenhtè:ke Language and Cultural Centre
Tsi Tyonnhéht Onkwawén:na (TTO) is seeking proposals from architectural firms for the construction of a new language and cultural centre.
We propose a dedicated, purpose-built facility that enhances the learning experience of all Kenhtekeró:non and ensures our children are raised as Kanyen'kehà:ka. Only when we have a generation of mother tongue speakers can we be sure that Mohawk will continue as a living language. Saving our language will only happen when we have rebuilt a complete language community. With a young and growing population, the time has come to invest in cultural education.
1800s Video Series
&

Discussion Panel
Follow along with the "proceedings of an Indian Council held at the Mohawk Village Bay of Quinte on the difference existing among the Indians of that village."
Then, join us on Wednesday May 19 from 6:30-8:00 PM for a panel discussion about the council. 
Video release schedule: May 3, 5, 7, 10, 12, 14 & 17
Watch on our website or on YouTube.
To register or submit questions for the virtual panel: trinityg@kenhteke.org
The global pandemic has made it necessary to once again postpone our planned exhibit with the Lennox & Addington County Museum and Archives.
Nyawen'kó:wa to the community members who loaned their family heirlooms and art works for display. We are proud to offer this video gallery featuring a selection of the many wonderful pieces shared with us.
We are continuing to work with the Lennox & Addington County Museum and Archives to plan for an in-person exhibit at a future time.
Language and Cultural Awareness Month
We have lots of exciting events planned for Language and Cultural Awareness Month!
All events will be shared via the TTO Facebook Page. Follow us or email tto@kenhteke.org to stay in the loop with our e-newsletters!
Kenhtè:ke Language and Cultural Centre
TTO has convened a building committee and is now working on next steps to bring the proposed Kenhtè:ke Language and Cultural Centre to fruition. The Cultural Centre will establish a permanent home for language and culture resurgence in Kenhtè:ke and has been designed to house our school programs, an outdoor playground for the students, and a traditional replica Longhouse.
Stabilizing Indigenous Languages Symposium
The 27th annual Stabilizing Indigenous Languages Symposium will be held June 14-18, 2021. This year's title is Global Indigineity: Languages from the Four Directions. As a result of the ongoing COVID-19 pandemic, SILS27 will be taking place fully online in 2021.
SILS27 will be hosted jointly by Queen's University; Tsi Tyonnheht Onkwawenna Lanaguage and Cultural Centre, Tyendinaga Mohawk Territory; and Kingston Indigenous Languages Nest (KILN) a part of the urban Indigenous community of Kingston, ON.
A Longhouse for Birdhouse City
In collaboration with a very talented community member (who wishes to remain anonymous) we are excited to donate this Longhouse to the
Birdhouse City
birdhouse revitalization project.
Nyawen'kó:wa to our builder, we are very proud to offer such a beautiful representation to their project. You did a fantastic job! Kwah yoyánere!
Healing Through Storytelling Kickoff
Healing Through Storytelling is a project for Residential School Survivors, their families and their descendants.
January 12 from 7-8 PM, we are hosting a virtual kick-off event and project information session with a keynote address by Sakokwenionkwas Tom Porter. This event is open to the public.
Wellness supports will be available throughout this and future events of this project.
TTO Building Committee Call for Members
We are seeking committee members to join the TTO Building Committee to support the establishment of the Kenhtè:ke Language and Cultural Centre. Expertise in construction, fundraising, language and cultural revitalization and related fields is preferred.
The role of the building committee is that of a leadership position. Committee members will assist in decision making, fundraising, and other planning activities.
Deadline for letters of application is Friday, December 18. Click here to see the full Call for Members. 
Mohawk Children's Storybooks Published
Tsi Tyónnheht Onkwawén:na has recently published 30 new and updated children's story and colouring books in Kanyen'keha (the Mohawk language). This includes 10 original stories by local authors and 20 stories by David Kanatawakhon previously published by the Woodland Cultural Centre.
These stories have been recorded and are now available for free as Kanyen'kéha language audiobooks.
Kenhtè:ke Mask Beading Challenge
Inspired by the Breathe. Collective, we invited artists with a connection to Kenhtè:ke to create Rotinonhsyón:ni style beaded face masks.
You can see all of the submitted masks on our online gallery.
Shelby Lisk from TVO's Indigenous Hub published a story featuring 12 of the talented artists and the beaded masks they created. Click here to view. 
Shekyá: | Kenhtè:ke Virtual Family Tree
Join Trish Rae and Karen Lewis for an opportunity to dig deeper into your family tree. Zoom is required to participate.
Participants must register for each session by emailing tto@kenhteke.org
Shekyá: is a slang greeting used in Kenhtè:ke. It comes from the phrase "shé:kon kyá:se," which is an informal way to say "hello cousin."
The pandemic has brought many changes to the way we do things at Kawenn'ón:we. We ended the 2019-20 year with online learning and now we are ready to get back to school!
In addition to new routines and increased handwashing, we will spend even more time outside in the coming school year. We purchased an outdoor classroom set to create two outdoor learning spaces to meet different needs. Nyawen'kó:wa to KC Builders for your help setting us up!
Tsatéweyenst Skátne ne Tsítha / Learning with Tsítha
Learning With Tsítha is a site dedicated to helping Kanyen'kehá:ka children and their families learn Kanyen'kéha.
There are animated stories and word games that entertain and help children with word recognition, pronunciation, grammar, spelling and math. LWT is designed for children and their families so, it works best when someone older uses the site with young ones.
We hope Learning With Tsítha helps your family find lifelong learning and enjoyment in our Kanyen'kehá:ka language and culture.
Onkwehón:we Niwenhniserò:ten
National Indigenous Peoples Day looked a little different in Tyendinaga this year. Instead of our usual celebration in Tsi Tkeritoten Park most of the events moved online to Facebook. View the schedule of events and newsletter here.
A number of participants braved the heat to complete the 5K Virtual Fun Run and 19 cars joined TTO staff and Board members, Tyendinaga Police Services and the Mohawk Fire Department in a car parade from Centennial Park, through the subdivision to Tsi Tkeritoten Park.
Greg and Lisa Sexsmith generously donated a class set of tablets to Kawenna'ón:we Primary School. The tablets will be used to support students with distance learning and help them stay connected to their teachers and classmates during the pandemic.
Nyawen'kó:wa Greg and Lisa!
Supporting Our Students and Families
During this challenging time, TTO wants to ensure our students and their families have everything they need to stay safe, healthy and engaged.
Our teachers are busy producing online learning supports and preparing activity packages to send to students. With funding from our partners at the First Nations Student Nutrition Program and Food For Learning, we can provide families with grocery gift cards to supplement their budgets until the end of the school year.
Due to the risk presented by COVID-19, the TTO office will be closed to the public until further notice. Staff are still available to assist with inquiries via email. Read the full statement below.
Call for Applications, Board of Directors
TTO is seeking dedicated and engaged individuals to join our Board of Directors.
This is the role for you if you are:
Passionate about revitalizing Kanyen'kéha language and cultural identity in Kenhtè:ke
Seeking a rewarding experience with opportunities for personal growth
Committed to active and regular participation and community engagement
Interested in being part of decisions that shape TTO's programming
To apply please fill out the application linked below and email to tto@kenhteke.org.